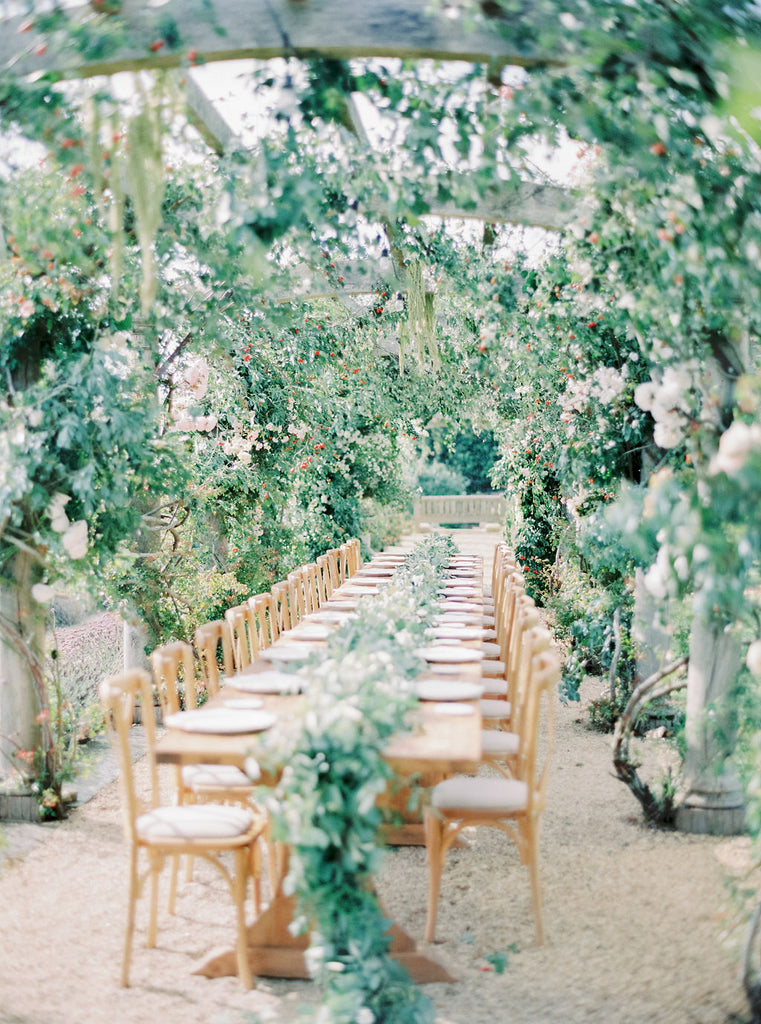 Miracles do happen! This couple were set to marry abroad in Tuscany, Italy but covid but a stop to that! And so in between lockdowns and ever changing restrictions, there was a very small window where weddings of up to 30 were allowed, and our couple took their chance! Planning the whole thing in less than two weeks, it was a case of pulling out all the stops, against all the odds to get this lovely couple down the aisle and wed! The stunning Euridge Manor, nestled on the outskirts of the Cotswolds is such a hidden gem, a true treasure of a venue with its stunning boathouse, we held the ceremony on the edge of the water and dressed the boathouse and all its pillars with organic, flowing foliage and trailing flowers- complete with floral boat also dressed beautifully to the max with blooms! The couple actually got in it and rowed on the lake for photos too! 
The reception was held under the pergola in the gardens of the house. The structure was an amazing wooden pergola that was pre existing but with no foliage or anything on it, it was a blank frame for us to fill to the max with trailing English rose hips, ivy and draping foliage to create a Tuscan vibe similar to the couple's initial wedding plans! We made a lush eucalyptus garland for the table runner and dressed the entrance to the pergola in a beautiful arch, set off by two stone urns filled with florals at the top of the steps which were also dressed with flowers. The weather sadly was not so Italianesque and with a crazy storm hitting on the day before the wedding and the day itself it was a battle against the elements as well as covid, but not even the wind or rain could dampen any of our spirits, or the couples as we all pulled off such a beautiful special day for the couple. Also- rain on your wedding day is good luck... and dancing under it at midnight super romantic and one to remember! ha ha 
Photography by Katie Julia. 
Planner- Jennifer Louise Weddings. 
Venue- Euridge Manor