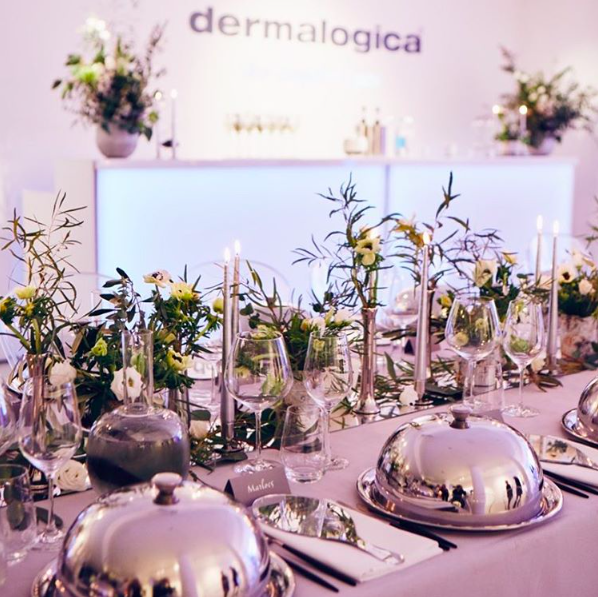 Last week we were asked to dress Dermalogica's press day and skincare event, #MyFaceMyStory. The two day event kicked off with Alice Lavine and Laura Jackson of @JacksonandLevine hosting a wonderful supper club for press before the event was opened up to the public the next day for a skincare 101 with Dermalogica experts on hand to read your skin... and suggest the best treatment for you! 
"Every face has a story. Let us read yours"
Rook and Raven Art Gallery in Fitzrovia was the perfect setting for the stylish yet understated event. Dermalogica's new product range emphasises the different skincare needs of individuals and so they wanted to treat their guests to an evening of tailored advice; good skin and delicious food! 
We chose to mirror the glam, monochrome design by using soft whites and natural foliages. 
A mirrored table runner and slim silver candles were paired with sleek silver and urban chic concrete vases. Winter white anemones, tulips and natural, wild foliages down the centre of the dining table completed the look.
The subtle green and white flowers with the silver vases gave a natural and minimal feel. We loved the silver cloches hiding the new product on each place setting and the menus for the supper club etched on individual mirrors.
We created large, wintery, monochrome arrangements to match Dermalogica's sleek silver and white brand and create impact in the perfectly white setting.  
Big thank you to our usual fave planners at Beauty Seen and Dermalogica for inviting us to play a part in putting together this beautiful event! x